2019 has been a busy year for our team. From publishing groundbreaking research to fact checking and analyzing party platforms during the federal election, here is a round up of what we've achieved this year:
Election fact checking
Our research team analyzed planks of federal parties, assessing who would benefit from proposed programs and how they measured up against the Alternative Federal Budget. 
In the lead up to October's election, we published:
Five election primers detailing what progressive climate, tax, reconciliation, public services, and health care policies would include.

Thirteen platform crunches assessing promises made by the federal parties and analysing who would benefit from platform planks including housing policies, tax cuts, and child care funding.

An interactive map, developed in partnership with Campaign 2000, visualizing the rates of child poverty by electoral riding. 
Through this work, we reached over 4 million people on social media. Our analysis was mentioned in 761 election-focused news stories. CCPA experts from across the country provided context and exclusive analysis on everything from climate policy to wealth tax proposals to journalists at the BBC World Service, National Post, Canadian Press, Toronto Star, CBC Radio, Chatelaine and Maclean's.  
Affordable rental housing
For years, there's been an ongoing conversation about the affordability of housing in Canada. But this conversation has focused on the cost of home ownership, not considering that a third of Canadians rent their homes. 
This year, we changed that conversation by mapping the cost of rental housing across the country. Our report prompted the federal NDP to release an official statement on housing and announce an affordable housing plan. At the municipal level, our report caught the attention of Vancouver's mayor who responded with an op-ed in the Star Vancouver about the importance of addressing the rental crisis.
Countering political spin on summer fuel prices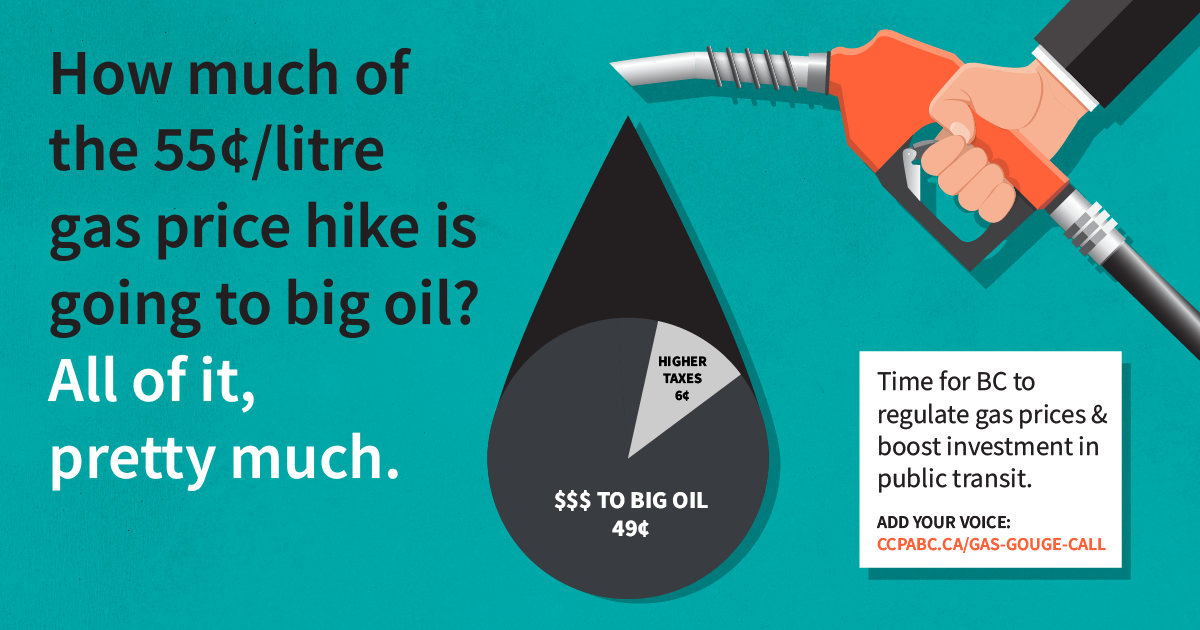 Drivers in Metro Vancouver were reeling from record high gas prices this year, with many commentators blaming the rising cost on taxes. But the CCPA BC Office and the Corporate Mapping Project (CMP) noted that it wasn't taxes causing pain at the pump — it was industry gouging.
The CMP's latest research shows that gas prices have gone up by 55 cents per litre since 2016—and the vast majority of that increase (49 cents) is going straight to big oil companies.
The CCPA-BC pushed for an end to price gouging by Big Oil—and for a boost of investment in public transit so it's easier to get around without relying on cars or fossil fuels. They launched a campaign calling for the province to regulate its gas prices that thousands of people have signed on to support.

Best and worst places to be a woman in Canada

 
The Best and Worst Places to be a Woman in Canada continues to put pressure on municipalities to close their gender gaps. The report also has begun highlighting the work that community organizations across the country are doing to help address inequality in the communities they serve. Many organizations across Canada cite Best and Worst as a critical resource that has helped them push their local legislators to support equality and inclusion initiatives. 
Senior researcher Katherine Scott added a new dimension to examining gender justice in Canada for the 25th anniversary of the Beijing Declaration and Platform for Action. In her latest report, Unfinished Business, Katherine collaborated with a network of more than 50 women's rights and equality-seeking organizations, trade unions and independent experts representing millions of members from across the country to assess Canada's progress on addressing its gender gaps.  The report examines Canada's progress over the last 25 years in areas ranging from reproductive health to women's economic standing and the situation of women in prisons.
Growing inequality
David Macdonald and Chris Roberts continue to track Canada's biggest companies and their pension plans. Many of those plans continue to be underfunded year after year. Meanwhile the same companies pay out many times what's needed to eliminate their pension deficits to their shareholders. We continue the fight so that workers are paid first before shareholders.
For years, we've been tracking executive pay and detailing the exact time on the first work day of the new year by which Canada's CEOs have made the average Canadian workers pay for the entire year. For the first time, this year's report also examined differences in pay between male and female corporate executives. Our new research revealed that not even women in the C Suite can outrun the gender wage gap, making $0.68 for every dollar their male colleagues made.  
Want to learn more?
Keep in touch with us and get the latest progressive research and analysis delivered straight to your inbox.