Here at the Canadian Centre for Policy Alternatives, we're voracious readers.  Our latest favourite is Frank Koller's Spark [2] (2010), from Public Affairs Books.
CCPA Research Associate Jim Stanford's read on it: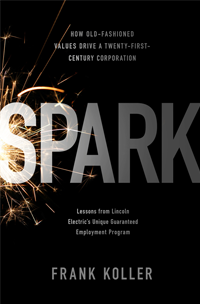 [2]
This extremely readable book was written by Frank Koller -- one of the most thoughtful, fair-minded journalists on Canadian radio. He's used both his journalistic and his story-telling talents to tell the story of Lincoln Electric, a manufacturing company based in Cleveland, Ohio whose official policy since 1958 has been not to lay off long-term employees (defined as anyone who's been there for 3 years or more). Lincoln also possesses a participatory, paternalistic, and union-free work culture, which has helped it to survive the brutal conditions that led to the extinction of so many other American manufacturers. Koller does not paint a rose-coloured picture of the company; he interviews plenty of critics, and is carefully independent in his assessment.  Indeed, after reading this book, I would not remotely posit Lincoln as a "model" for better employment practices.  Koller's book is most useful when approached as an extremely well-written, impeccably documented case study in labour relations -- rather than as a manifesto for successful "caring capitalism" (which Lincoln does not represent).  Reading this story carefully should help unionists and socialists think concretely about ways in which we can extract a more humane bargain from the capitalists who employ us.  I recommend Koller's book highly, both for armchair analysts and (for practitioners and specialists) as a well-document case study in labour management strategy.